The Hope Center at Sara's Garden provides a perfect atmosphere for weddings receptions, banquets for all occasions, anniversaries, wakes, reunions, business meetings, retirement and company parties, dinner dances, proms and more.
The Hope Center is able to accommodate small groups of 10 or larger groups up to 300 and is available for rental seven (7) days a week. This roomy 3,260 square foot hall can be set up in many ways to suit your individual needs.
The Hope Center is spacious and beautiful and is conveniently located just minutes from the Wauseon turnpike exit at:
The Hope Center at Sara's Garden
220 Lawrence Avenue
P.O. Box 150
Wauseon, OH 43567
This magnificent, fully equipped facility with its high ceilings and large kitchen may be rented for that very special occasion. At The Hope Center you can create the event to your personal specifications. There is no requirement to use in-house services such as food and beverage service. You choose the band, DJ, caterer, florist, photographer, decorator, etc. exactly as you desire.
Fully Equipped Kitchen
Large Men's & Women's Restrooms
Separate Lobby/Welcome Area
Ample Off-Street Parking
Handicapped Facilities
Whether you are planning your wedding reception, company meeting, birthday party or class reunion, The Hope Center at Sara's Garden can provide the perfect environment.
Event Duration Pricing
3 Hour Block $150.00
6 Hour Block $400.00
8 Hour (Full Day) Block $550.00
If you are interested in reserving the Hope Center for an event you are planning please fill out the registration form below. A copy of the hall rental agreement is available for download.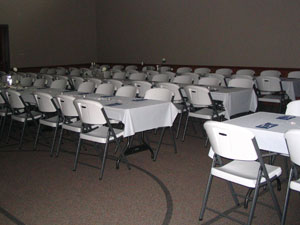 An example of an event that utilized rectangular tables to achieve maximum seating capacity.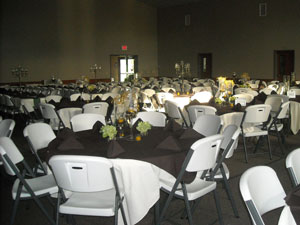 An example of a wedding reception that was decorated with a mix of round and horizontal tables.