NEW HORIZONS ACADEMY
Where kids come first!
WE EXIST FOR OUR STUDENTS
The Hope Center houses our New Horizons Academy program. New Horizons Academy is a private school that offers a holistic, all-encompassing educational path for children who have special learning needs and are preschool through grade twelve. Our mission is to provide the highest quality of educational programming available and empower children with disabilities to recognize and optimize their full potential.
When our children arrive, they enter by way of our front lobby, or waiting room. They have the opportunity to hang their own coats up on the coat racks. The lobby is equipped with comfortable furniture, allowing the parents and caregivers a comfortable place to wait when necessary.
The large "gym" space functions as a multipurpose area. It is large enough to allow our students to use for art, lunch, Conductive Education as well as break out classroom space for individualized instruction. Having such a large room comes in handy when we need to break up into smaller groups, with small groups working in different spaces within the same room.
To maintain the safety and security of the clients we have implemented a video surveillance system that monitors and records activity in all areas of the facility. The general public has access to the lobby of The Hope Center but the entrance into the actual school itself is locked via a magnetic security system.
The smaller rooms throughout the building function as staff offices, instructional classrooms, our multi-sensory room and storage. All classrooms utilize SmartBoard technology for delivering educational lesson plans.
The fully equipped kitchen comes in handy when teaching our children life skills. For example, standing at the sink or walking around the kitchen to identify the appliances. The sidewalk around the building as well as the open land provide an opportunity to teach our children how to walk on different surfaces (sidewalk, dirt, grass, rocky ground).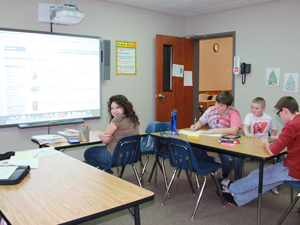 Classrooms at NHA utilize SmartBoard technology for instruction. We believe that our students excel in a smaller, more intimate classroom setting where they receive an individualized curriculum.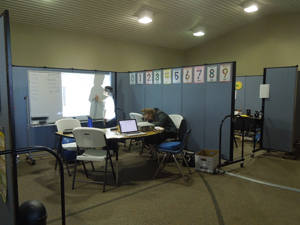 Breakout classrooms are available for individualized instruction and curriculum. Classrooms are flexible and can be modified quickly to meet the specific needs of each group.