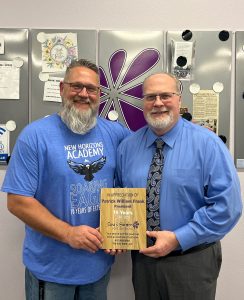 For the past 19 years, Bill Frank has faithfully served as the president of Sara's Garden. We could not be more grateful for his steadfast commitment and dedication to this organization. Bill's vision, guidance, expertise and patience have been a huge blessing to everyone here at Sara's Garden, New Horizons Academy and Special Grounds Coffee Co. 
Sadly for us, Bill has accepted an exciting new faculty appointment as an Associate Professor within the Department of Neurobiology and Anatomy at Drexel University College of Medicine (DUCOM) as of May 1, 2023. Bill will be one of three anatomist teaching at the West Reading, PA campus. His duties will be mainly teaching anatomy (including gross anatomy) to medical students, graduate students, residents and/or fellows. Approximately 10% of his time will be devoted to scholarly activity, including establishing a plastination laboratory, at the West Reading campus.
Bill has been a guiding force for the organization for nearly two decades and his leadership and presence will be greatly missed.
Thankfully, Bill will be staying on as a board member and participate in board meetings via videoconference. We are excited to announce that Phil Rupp has been elected as the new President of Sara's Garden and we look forward to working under his leadership. 
Please join us in thanking Bill for his service and wish him and Miriam all the best as they embark on this new adventure and turn the page on a new chapter in their lives.
Thank you Bill!