MEETING DIVERSE CLIENT TREATMENT NEEDS
We are able to provide an unsurpassed level of care and treatment in our facilities where your comfort is our top priority.
Our two multi-place chambers at Sara's Garden allow for flexibility in scheduling and accommodation of diverse client treatment requirements. Our video monitoring and voice communications systems allow for a constant link between the hyperbaric technician operating the chamber and the trained medical personnel inside the chamber with the clients.
Our hyperbaric chambers provide a spacious interior to relieve any possible claustrophobic anxieties and allow clients the freedom of mobility. Clients can adjust their position as needed throughout the treatment to meet their specific needs for comfort.
Both chambers provide multiple view ports so family members can observe their loved ones during treatments. Because we can treat multiple clients at the same time, it also allows clients to build relationships and companionship with our staff and other clients during treatments by providing them with the ability to talk, play games, watch tv/movies, read, and listen to music.
The professional staff at Sara's Garden is trained to provide specialized, comprehensive Hyperbaric Oxygen Therapy treatments. When you are a client at Sara's Garden you are attended in the chamber by trained medical personnel at all times during the treatment process.Sara's Garden has and/or will treat the following FDA approved and often insurance reimbursable conditions: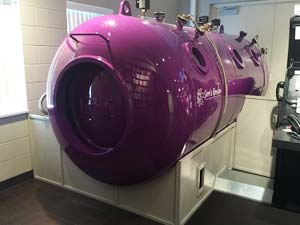 Our original chamber was donated by the United States Navy. It is a refurbished and reliable U.S. Navy dive chamber.
Chamber Features:
Seats 5 Clients/Staff​
Overhead Oxygen Hookup
Multiple View Ports
Two LCD Widescreen Televisions
Voice Communications System
Video Camera Monitoring System
Multiple Flexible Seating Options
Air Conditioning System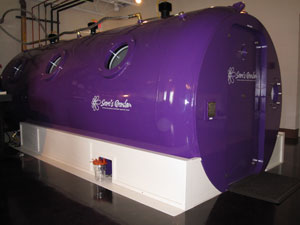 Our newest hyperbaric chamber was constructed specifically for Sara's Garden and installed in the spring of 2010.
Chamber Features:
Seats 10 Clients/Staff
Seat Level Oxygen Hookup
Multiple View Ports
LCD Widescreen Television
Voice Communications System
Video Camera Monitoring System
Multiple Flexible Seating Options
Floor Level Access to Provide Stretcher and/or Wheel Chair Accommodation