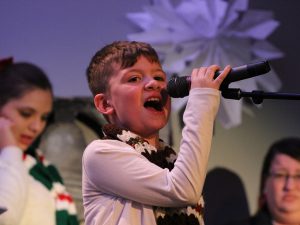 NHA Students Taught Us NOT to Be Grumps (or Grumpy) and to Share the Spirit of Christmas!
Thank you to our all-star musical New Horizons Academy (NHA) students and cast members, who delivered outstanding performances on December 13 at Pettisville Missionary Church when they reminded us all NOT to be grumpy or grumps in the 2022 Annual NHA Christmas Musical, "The Grumps of Ring-A-Ding Town!"
Under the direction of NHA Music Teacher and Christmas Musical Director Melissa Valentine, over 100 of our special needs students sang, danced, and taught us all about the importance of caring for each other and keeping the Christmas spirit alive. In the musical, the bells of ol' Ring-A-Ding Town have stopped ringing, because the townspeople have completely lost their holiday spirit. With all of the pressures of the season, they have become so grumpy that even the bells refuse to ring. When a severe winter storm pounds the village with ice, wind, and snow, the grumpy citizens are reminded how much they need each other and how rewarding it can be to share and care for one another in the true spirit of the season. When peace, love, and joy return, the bells of Ring-A-Ding Town begin to ring again; and we are all reminded NOT to be grumps or grumpy and that miracles really can and do happen!
This inspirational, Christmas musical was made possible by our talented students and dedicated NHA staff and teachers, especially Music Teacher and Director Melissa Valentine. Without all of her hard work, vision, dedication, and creativity, the show would not have gone on. She found or created the absolute perfect role for each of our students' abilities and personalities and corralled and coached over 100 of our special needs preschool to high school youth through the entire Christmas show. Melissa was truly our role model on sharing and spreading the Christmas spirit and not letting the grumpy grumps spoil the holiday season!
If you missed this special Christmas show, check out all of the photos on New Horizons Academy's Facebook page HERE or check out our YouTube channel for your own special, encore performance HERE.