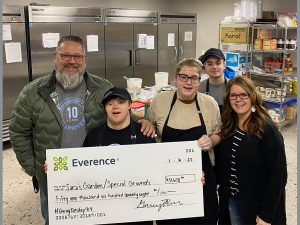 We are so grateful and beyond humbled by the support we received during this year's Giving Tuesday 419 event. 
Funds from this year's Giving Tuesday gala went to support equipment, curriculum and supplies for our vocational training program at Special Grounds Coffee Co. Through your caring and support, over $50,000 was donated to Sara's Garden, allowing us to continue to expand the opportunities to make a difference in the lives of our special needs children and their families and inspire change in Northwest Ohio!
Once again, the team at Everence created an amazing event that benefited countless charities and non-profits throughout Northwest Ohio. The total amount donated at the Giving Tuesday 419 gala for these organization was nearly $1.5 million dollars!
Thank you Everence and donors for your hard work and unbelievable generosity. We can not begin to adequately express our gratitude or describe what your support means to all of us here at Sara's Garden, New Horizons Academy and Special Grounds Coffee Co.!