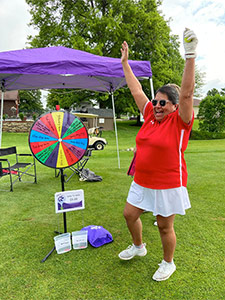 We would like to thank everyone today for the continued support of Sara's Garden. This year's Drive Fore Hope Charity Scramble couldn't have been possible without the support of so many who sponsored, donated, played or volunteered for the event. We were blessed with beautiful weather and an amazing course at Ironwood Golf Course.
A special thank you to the following sponsors:
Platinum Title Sponsors:

Everence Financial
Farmers & Merchants State Bank
Returning American Warriors (RAW)
Rupp Seeds, Inc.
Gold Event Sponsors:

20/20 Custom Molded Plastics
ACE Hardware – Wauseon
Circle K
Reitzel Ag Equipment
Silver Contest Sponsors:

Arrow Tru-Line
Auto Images
Babcock Flooring
Continental Plaza Car Wash & Drive Thru Carry Out
EagleCreek Staffing LLC
Holthues & Associates
Meyer-Badenhop Insurance
Miller Brother Construction, Inc.
Schuette Construction, Inc.
Subway of Archbold, Delta, Swanton, Waterville & West Unity
Terry Henricks Auto Group
Wauseon Machine & Helping Hands
Winzeler & Bok, LTD
Bronze Meal Sponsors:

Kinsman Propane
Pettisville Grain Co.
Swanton Welding & Machining Co.
O2 Tee Sponsors:

Beck Insurance Agency
Car 1
Cordy Insurance Agency
Creighton Electric
Edward Jones – Wauseon
Gearig Flooring
Golf Graphics
Grieser Transportation
Ironwood Golf Course
Krauss-Lane Electric
OK Electric
Rychener Seed
Tomahawk Printing Inc
Weeping Willow Florist
We would also like to thank Advanced America for donating the water and snacks for our players, ACE Hardware for donating a barrel pit that we were able to raffle off and Special Grounds Coffee Co. for the delicious lunch for everyone after the event!
Congratulations to Larry Zimmerman and his team from Continental Plaza Car Wash & Drive Thru Carryout for being the 1st place team for the event. A commemorative brick will be created for them and placed in the patio of our playground at NHA.
A complete photo gallery from the event can be found HERE on our Facebook page.

We look forward to seeing everyone again next year!