Thanksgiving is the time of year where we appreciate the people, programs, and organizations that have touched our lives, supported our families, and helped our students to succeed! This year, we are so grateful for Shalian (Shali) McCarley and want to celebrate her accomplishments and appreciate all of the New Horizons Academy (NHA), Career Center, and Special Grounds Coffee staff for helping her to become more confident, independent, and a part of the world of work.
Over five years ago, Shali and her parents, Jack and Sharon McCarley, came to NHA looking for a supportive, special education school environment where she could gain confidence, find her voice, develop work skills, and feel valued and appreciated. According to one of her high school teachers, Ms. Kara Behnfeldt, that is exactly what Shali found. "She grew in confidence; and she developed people skills, as well as, being able to express her thoughts and feelings. Shali thrived in a one-on-one, quiet, supportive classroom environment, where she felt valued." At NHA, Shali felt that she learned "how to get along with people," which helped prepare her for her new retail job at Walmart in Napoleon.
Shali may have improved her communication skills and work skills while at NHA and its Career Center; but as Ms. Kara recognized, "Shali is a hard worker who strives to do the best she can." And she does it through humor and with a smile on her face. "I loved seeing and hearing Shali laugh. When she did, it was always pure joy." Shali agreed that one of her favorite memories was of one of her classmates making her and her other Career Center classmates laugh all the time.
That laughter continued this fall through the Special Grounds Coffee Shop. After socially graduating last May, Shali returned to the Career Center to bake for the coffee shop. Her favorite thing to make was the breakfast burritos, which her job coach Ms. Renate Benjamin made the work fun and exciting. "During the burrito making, we made up a song called, The Burrito Song. One of my favorite memories is Shali telling me in fun, 'Ms. Renate, Please don't sing the burrito song any more' with a huge smile on her face and laughing as hard as she could."
The Burrito Song is just one example of the fun, educational tools used to help Shali and her Career Center classmates and coffee shop co-workers "learn how to follow a recipe and measure ingredients in grams and ounces," shared Renate. Through her work study at the Special Grounds Coffee Shop, "Shali also learned to be part of a team and gained a lot of confidence."
In addition to breakfast burritos, Shali also learned how to make oatmeal sandwich cookies, chocolate chip cookies, peanut butter cookies, and yogurt parfaits with fresh fruit and homemade granola; but her all-time favorite coffee shop treat is of course the huge, ooey gooey chocolate chip cookies. Stop by the Special Grounds Coffee Shop, and try one for yourself. They are great with coffee or hot chocolate!
The Special Grounds Coffee Shop and the Career Center Skills Labs offered Shali the chance to practice her communication, social, customer service, and other work-related and vocational skills needed to be successful at her new retail position. They and her job coach also helped allay her fears and reduce her anxieties about starting a new job. Initially, Shali was worried "about being able to do everything the job required," and now, she is able to enjoy "making new friends."
Shali has just joined the world of work, and she still has a whole lot of dreams for her future. She wants to "try new things like photography, modeling, and learning more about fashion." Ms. Kara and the rest of the NHA staff are just so proud of her and "wish her a life of happiness and confidence in whatever she chooses to do and hope she stays in touch."
This Thanksgiving season, we want to join with Ms. Kara in congratulating Shali on her new job opportunity and celebrate how far she has truly come in making her dreams of independence come true! We also want to take a moment and thank all of the Special Grounds Coffee Shop, NHA, and Career Center teachers, staff, and job coaches for helping Shali to become more confident, independent, and a part of the world of work.
This holiday season, please stop by the Special Grounds Coffee Shop, and celebrate the accomplishments of Shali and our other special needs students! Thank our staff for everything they do to help our students' dreams come true and for helping them to become as independent as they can possibly be. Remember that all of the proceeds of Special Grounds Coffee support the vocational skills and work study needs of our special needs students.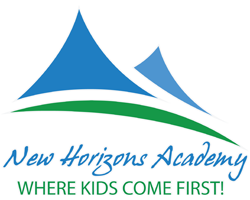 If you are looking for a caring school environment for your special needs student, an individualized vocational-based program for your high schooler, a Summer Camp where your middle school or high school student can gain valuable work study skills, or a place where your special needs student can grow, thrive, and become as independent as he or she possibly can, then please consider calling us at 419-335-7272 to set up a tour of our Career Center or NHA school campuses in Wauseon or Springfield. New Horizons Academy…Where Kids Come First!
Special Grounds Coffee Co. was born out of a desire to provide a meaningful vocational experience to individuals with disabilities by creating delicious, high quality products and a welcoming environment. For more information on Special Grounds Coffee, to explore our menu, or to order our freshly roasted and blended coffees right from Wauseon, Ohio, stop into our cafe and see us at 845 S. Shoop Avenue or log onto SpecialGroundsCoffee.com to order online. Special Grounds Coffee… Hope Brews Here. Changing Lives One Cup at a Time.